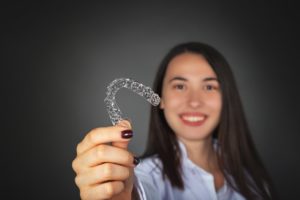 If you've chosen to correct your bite and alignment with clear aligners, you've made a wise decision. The nearly invisible treatment provides a convenient solution to improve the health and appearance of your teeth. While on your journey to a straight smile, it's important to commit to caring for Invisalign to prevent any unexpected complications along the way. Here are 5 simple tips you need to keep your aligners clean.
1. Create an Oral Hygiene Routine
Get into the habit of cleaning your aligners properly by establishing a daily routine for your oral hygiene. Since you'll need to wear your aligners while you're sleeping, harmful bacteria can grow on them overnight. As soon as you get out of bed in the morning, take the time to brush your teeth for at least 2 minutes and clean your aligners. Repeat your routine before going to bed at night.
2. Gently Brush Your Aligners
Use a soft-bristled toothbrush and clear antibacterial soap to brush your aligners at least twice daily. Don't use any abrasive dental products because they can cause small scratches that can make your aligners look discolored. When cleaning Invisalign, don't use any soaps that contain dyes to prevent them from losing their translucent appearance.
3. Rinse Your Aligners When You Remove Them
You'll need to wear your aligners for at least 22 hours each day, only taking them out to eat, drink, and brush and floss your teeth. When removing your aligners, rinse them with water before placing them back into your mouth. You'll remove saliva and plaque buildup. If possible, it's best to brush your teeth before reinserting them. If you can't get to your toothbrush, rinse your mouth with water.
4. Soak Your Aligners Daily
To remove any bacteria and plaque left behind by your toothbrush, soak your aligners at least once daily to keep your Invisalign in Severna Park looking its best. There are cleaning crystals specially designed for clear aligners to remove stubborn plaque from hard-to-clean areas. You can also use a low concentration of hydrogen peroxide and warm water to soak them.
5. Don't Leave Your Aligners Out in the Open
Anytime you remove your aligners, get into the routine of placing them in their storage case to avoid exposing them to bacteria. This will also lessen the likeliness of you losing them, such as leaving them on the table after you've finished your meal.
Protect Your Investment
Invisalign in Millersville is a big investment. Don't let anything stand in your way of achieving the confident, beautiful smile you deserve. Be proactive about caring for your aligners to ensure there aren't any unplanned issues that can interrupt your treatment plan.
About Dr. Vy Tran
Dr. Tran earned her dental degree from the University of Maryland at Baltimore and has continued her training at the Pankey Institute. She is a certified Invisalign provider who can treat a variety of bite and alignment concerns using clear aligners. If you're interested in Invisalign, contact our office today to see if you're a candidate.