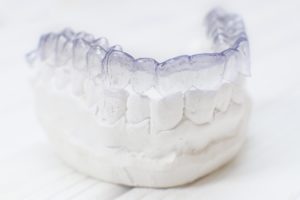 If you have bite and alignment concerns, you have more options than ever to achieve the straight smile you desire. Invisalign in Millersville is a preferred choice among adults because the clear aligners are virtually invisible, so you won't need to worry about any added attention drawn to your smile. Unfortunately, you have restorations. As a result, you might not believe you are a candidate for Invisalign, but this couldn't be further from the truth. With a few added precautions, you can straighten your teeth using aligners even if you have crowns, veneers, or bridges.
How Does Invisalign Work?
Invisalign differs from traditional braces because brackets and wires aren't necessary to move your teeth. Instead, your dentist takes an impression of your mouth to fabricate a series of aligners that apply gentle pressure on your teeth to move them. Each aligner is worn for about 22 hours per day. You'll switch to the next aligner in the series after about one week. Although every treatment plan is unique, most patients are finished with their series in 12 months.
Can I Get Invisalign with Restorations?
Often, Invisalign is the ideal solution for patients with preexisting dental work because it doesn't involve bonding brackets or wires to the teeth. While it is possible to get Invisalign, your treatment plan will require special attention to ensure your restorations aren't damaged during the process.
Invisalign with Crowns
Invisalign is removable, so the aligners won't stick to any dental crowns, which can cause the restorations to lose their bond with your teeth. Many patients who have caps on their teeth can benefit from Invisalign, but if you have severe alignment or bite issues, your dentist may recommend another solution.
Invisalign with Bridges and Veneers
Even patients who have bridges or veneers in Millersville can get Invisalign, but your dentist may need to move your teeth more slowly. Your dentist will check your restorations at each appointment to ensure they aren't damaged and have a secure bond with your teeth.
Is Invisalign Right for Me?
Every orthodontic case is different, so you'll need a consultation with your dentist to ensure it is the right option for you. Depending on your orthodontic needs, Invisalign may be the ideal solution if:
You want a less noticeable treatment.
You don't want to deal with dietary restrictions.
You want an easy oral hygiene routine.
You are committed to your oral hygiene.
You visit your dentist regularly for cleanings and checkups.
You can commit to your treatment plan.
Get a Straight Smile Today
Don't let crowns, veneers, or bridges stop you from achieving the straight smile you want. Contact your dentist today to see if Invisalign is right for you.
About Dr. Vy Tran
Dr. Tran earned her dental degree at the University of Maryland at Baltimore and continued her training at the Pankey Institute. She is a certified Invisalign provider for adults looking for an alternative to metal braces. If you're ready to improve your smile, contact our office today to schedule your consultation.