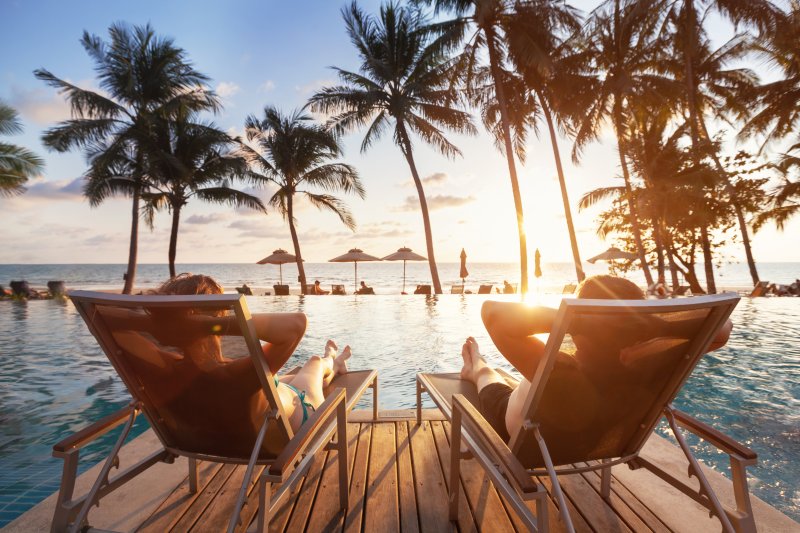 The warmer months are filled with fun activities and exciting adventures. It's the perfect time to take a break from the daily grind, but don't forget to prioritize your oral health amidst all the fun. All it takes is a toothache or a mouth injury to ruin the excitement.
So, whether you're planning a weekend getaway, taking a road trip across the country, or flying overseas, you can still protect your smile by following simple measures. Read along for a few tips to prevent dental emergencies while traveling.
Have a Good Oral Hygiene Travel Kit
It's easy to fall out of routine on an unpredictable schedule. This happens to most people during summer vacation, especially while traveling because each day is different. However, you must do your best to stay on top of your oral hygiene regimen. Skipping the floss or forgetting to brush can cause plaque to form, leading to further dental problems. Stay on track by filling a kit with travel-sized essentials like a toothbrush, fluoride toothpaste, floss, and fluoridated mouthwash.
Drink Plenty of Water
When lounging by the pool at an all-inclusive resort, you may be tempted to reach for an alcoholic or sugary beverage to cool down. But sweet and acidic drinks, like soda, cocktails, and wine, can damage your enamel and lead to tooth decay. Instead, keep your smile healthy and opt for a refreshing glass of water. It will help wash away bacteria, neutralize acid, and stimulate healthy saliva production.
Stock Up on Healthy Snacks
Most people tend to snack more often during road trips since, aside from sitting in a car or a plane, there's not much else to do. Protect your teeth and limit sugary or acidic foods like cookies, candies, chips, and soda. Stock up on healthy, tooth-friendly snacks instead to strengthen your teeth. Foods like baby carrots, celery, apple slices, nuts, yogurt, and cheese are all tasty options that will keep your mouth and body healthy.
Participate in Recreational Activities Safely
If you're going to be participating in recreational activities or full-contact sports, make sure to wear a mouthguard to protect your smile. Common summer injuries that warrant an emergency visit usually involve broken or chipped teeth, fractured roots, and cut lips. Wearing a mouthguard will prevent these accidents, so you don't have to spend your summer days recovering from dental trauma.
Visit Your Dentist Before Traveling
Have a mild toothache, slight jaw pain, or tooth sensitivity? Whatever the case, you should visit your dentist for a checkup before traveling. Having any dental concerns addressed before vacation will keep you from experiencing complications during your trip. Dental care may be expensive or hard to come by at your destination, so it's best to identify or treat any problems before your departure.
A healthy and happy mouth will ensure you get the most out of your time off. Now that you've learned a few tips to keep your teeth safe during vacation, you're ready to enjoy the freedoms of summer!
Meet the Dentists
Dr. Vy Tran and Dr. Maria Tibbs are happy to provide a wide array of dental treatments at Transcendent Smiles. They'll give you the one-on-one attention you deserve, educate you on your oral health, and create a comfortable, comprehensive dental experience. Our dental office understands that accidents happen, even on vacation. So if you or a loved one need immediate care, whether it's the result of a long-term issue or a sporting injury, Dr. Tran and her team can help improve your condition. Schedule an emergency visit via our website or call (410) 729-9090.