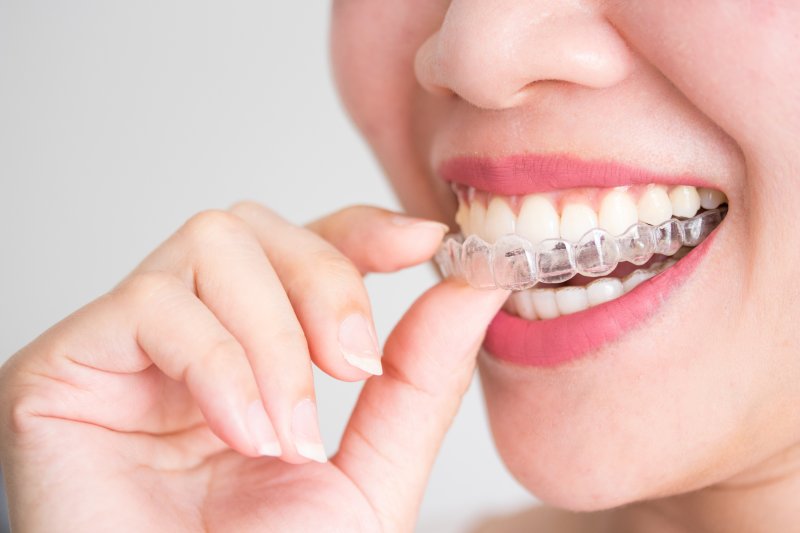 Do you have crooked or misaligned teeth? You might be researching orthodontic solutions to achieve a straighter smile. Invisalign is one popular treatment known for its subtlety and comfort. Most patients prefer it over traditional metal braces as it promises to be much more convenient and aesthetically pleasing. However, there are a few things you should know before committing to the process. Here's what to expect.
It's a Major Time Commitment
Invisalign's clear aligners use constant pressure to move teeth into better alignment. You must meet the recommended wear time (20 to 22 hours) every day. Otherwise, you risk extending the length of your treatment, which can cost you more time and money down the line.
You Will Experience Speech Alterations
Some patients report changes in their speech during the first week or two of treatment. It's largely because people aren't used to having something in their mouth that restricts movement. While you may initially experience a slight lisp or another impediment, it should go away as soon as you adjust to the clear aligners!
More Attachments May Be Necessary
Depending on the complexity of your case, you may receive more attachments than expected. Enamel-colored ridges, for example, stick onto your teeth (like metal brackets with braces) and help move your teeth more effectively. It's worth noting that they are noticeable when you're wearing aligners, so it might look like you're wearing clear braces.
There Might Be Discomfort
Each time you move onto the next series of aligners, you may experience some degree of discomfort. However, not every patient reports this sensation. Most tend to prefer it over constantly having metal in their mouths that irritates the gums and tongue.
They Will Need to Be Removed Before Eating or Drinking
Unlike braces, there are no dietary restrictions during Invisalign treatment. You must simply remove the clear aligners before eating or drinking anything that's not water. But keep in mind that your trays must stay in for 22 hours per day – you will have to fit all your meals and snacks into two hours!
You Will Be Brushing Constantly
Each time you remove your aligners, you must brush and floss your teeth before slipping them back in. Otherwise, food particles can get trapped in between the aligners and your teeth, leading to bad breath and even cavities. It could also stain or darken your plastic trays.
You Will Need to Wear a Retainer After Invisalign Treatment
After completing treatment, you'll be required to wear a retainer to maintain your results. For the first few months, you may have to wear a retainer all day, every day. But then, you might only need to wear it at night. The requirements vary from person to person, so make sure to ask your dentist what they recommend for your case.
Like most dental treatments, Invisalign can have its pitfalls, but the benefits far outweigh traditional metal braces. Contact your dentist if you're ready to start your journey – a beautiful, straight smile is only a call away!
About the Practice
At Transcendent Smiles, we're proud to provide a wide range of dental treatments all under one roof. Invisalign is one service we offer that can simultaneously improve your oral health and quality of life. Thanks to the clear aligners, you don't have to feel self-conscious about sporting visible treatment! If you're ready to start treatment, visit our website or call (410) 729-9090 to schedule a consultation.