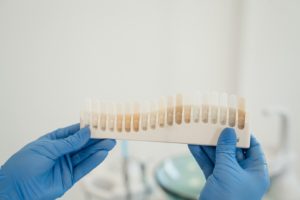 When picturing a dental crown in Millersville, you might see a dark cap covering a tooth. While metal was commonly used for generations, modern restorations look just like a real tooth. In fact, most people can't even tell a crown isn't part of a person's natural smile. Your dentist uses a unique color-matching process to ensure restorations match the shade of your enamel to blend in seamlessly. Here's how your dentist chooses the ideal color to ensure your restoration enhances the appearance of your smile.
Choosing the Color for Crowns
Teeth naturally come in a variety of colors and shades, so there isn't a one-size-fits-all crown. Not to mention, your teeth can look different colors depending on the lighting of the room or the clothes you're wearing. There's an art and science behind color-matching dental crowns to ensure your restoration looks natural.
Teeth can range in color from yellowish to white. Not to mention, they also have a shade, which differs from the color. The shade of a tooth includes:
Hue: Color of the tooth, which ranges from yellow, red, or gray.
Chroma: The saturation or intensity of the hue.
Value: Determines the lightness or darkness of the shade.
Your dentist may drape a gray bib over you to provide a neutral place to reset their eyes to avoid colors affecting the perception of the tooth shade. They will not look at your teeth for more than 7 seconds to allow the rods in their eyes to reset.
Your dentist in Millersville will use a color matching shade guide, which is a metal or plastic card featuring fake porcelain teeth ranging in color. The guide is held next to your teeth to compare the natural shade. After your dentist determines the value of the tooth, they'll find the hue and chroma. They may also use a small electronic device to determine the perfect color for your crown.
Tips for Ensuring the Best Color
You can ensure your dentist chooses the best color for your crown by skipping brightly colored clothing. This helps reduce any color contrast that may affect your dentist's ability to choose the ideal shade. You'll also want to skip wearing any brightly colored lipstick, which can affect the way your teeth look.
Since your natural teeth change color over time, consider a whitening treatment before getting your restoration. This will ensure your crown and enamel continue to match for many years. You can maintain a seamless transition by following a solid oral hygiene routine at home and visiting your dentist at least twice a year for a cleaning and checkup.
Rest assured; your dentist will find the ideal color for your crown, so no one will know it isn't part of your natural smile.
About Dr. VY Tran
Dr. Tran earned her dental degree at the University of Maryland before continuing her training at the Pankey Institute. She has undergone advanced training in various specialties, including restorative dentistry, Dr. Tran combines her qualifications with the latest technology to deliver superior care. If you need a crown, contact our office today for an appointment.