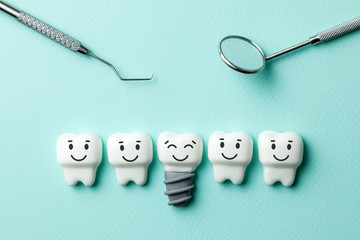 Tooth loss is a common problem throughout the United States with approximately 178 million Americans missing at least one tooth. Fortunately, missing a tooth no longer means that you need to go throughout your life without it. There are a variety of tooth replacement options out there, with dental implants being a preferred method because of their many benefits. Continue reading to learn about the basics of dental implants so you can make a more informed decision about your smile.
How Do Dental Implants Work?
Dental implants are titanium, screwlike posts that are placed directly into the jawbone by a dentist in order to replace the root of a missing tooth. After the surgical procedure, the jawbone will grow around and fuse to the implant in a process known as osseointegration. A dental crown is placed on the end of the implant to fill the gap between the adjacent teeth. The crown is customized to be the exact size, shape, and color to blend in with the rest of your teeth and give you a natural-looking smile.
What Are the Benefits of Dental Implants?
There are so many benefits of getting dental implants. Here are just a handful of them:
Comfortable: When dental implants heal, they will feel very similar to your natural teeth. You may even forget that you have them in your mouth.
Easy to maintain: When you have dentures, your shopping list consists of adhesives and soaking solutions. For implants, just care for them how you would with your natural teeth. Brush, floss, rinse, and see your dentist for regular cleanings and checkups.
No food restrictions: While your implants are still in the process of healing, you will need to stick to softer foods. Afterwards, you can eat pretty much anything you want. Dental implants restore up to 90% of your natural bite power, so you don't need to deprive yourself of your favorite dishes.
Long-lasting: Dentures and other tooth replacement options need to be repaired and replaced periodically, but implants can last upwards of 25 years or the rest of your life with proper care. You might never have to worry about your missing teeth ever again!
Prevents bone loss: Dental implants are the only tooth replacement option that replaces the root of the missing tooth by stimulating the jawbone through chewing. This helps to prevent bone loss.
Dental implants have all sorts of benefits that you can't get with other tooth replacement options. Talk to your dentist to find out if they are the solution for you!
About the Author
Dr. Maria Tibbs earned her dental doctorate from the University of Maryland at Baltimore. After completing her Certificate in Periodontics, she pursued a fellowship that specifically focused on implant prosthodontics and digital dentistry. Currently, she is a proud member of the Maryland Dental Association, American Academy of Periodontology, and the American Association of Woman Dentists. For more information on dental implants or to schedule an appointment at her office in Millersville, visit her website or call (410) 729-9090.